It is my distinct pleasure to introduce the new Mr. and Mrs. Cedric Lewis! Cedric and Kim's wedding day was full of so many beautiful moments and details, and I loved capturing each and every one of them. Kim adopted six kids as a single mother, and watching each of them take part in the wedding day was so special! It was wonderful to witness Kim and Cedric's families become one!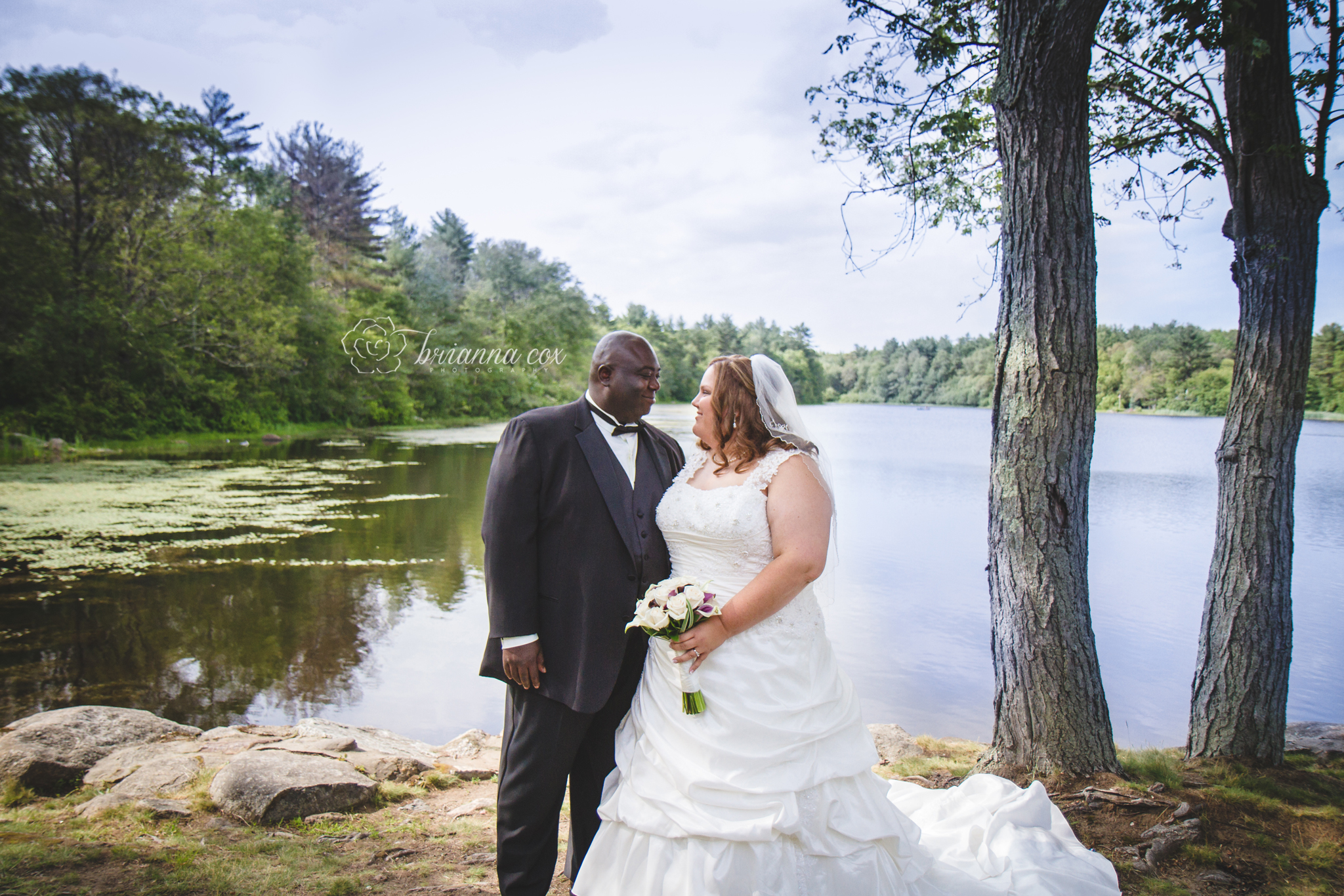 The bridal party got ready at The Fellowship church before the ceremony. Kim's Mom Nancy, presented her with special jewelry including her Grandmother's pearl necklace that she wore on her wedding day too.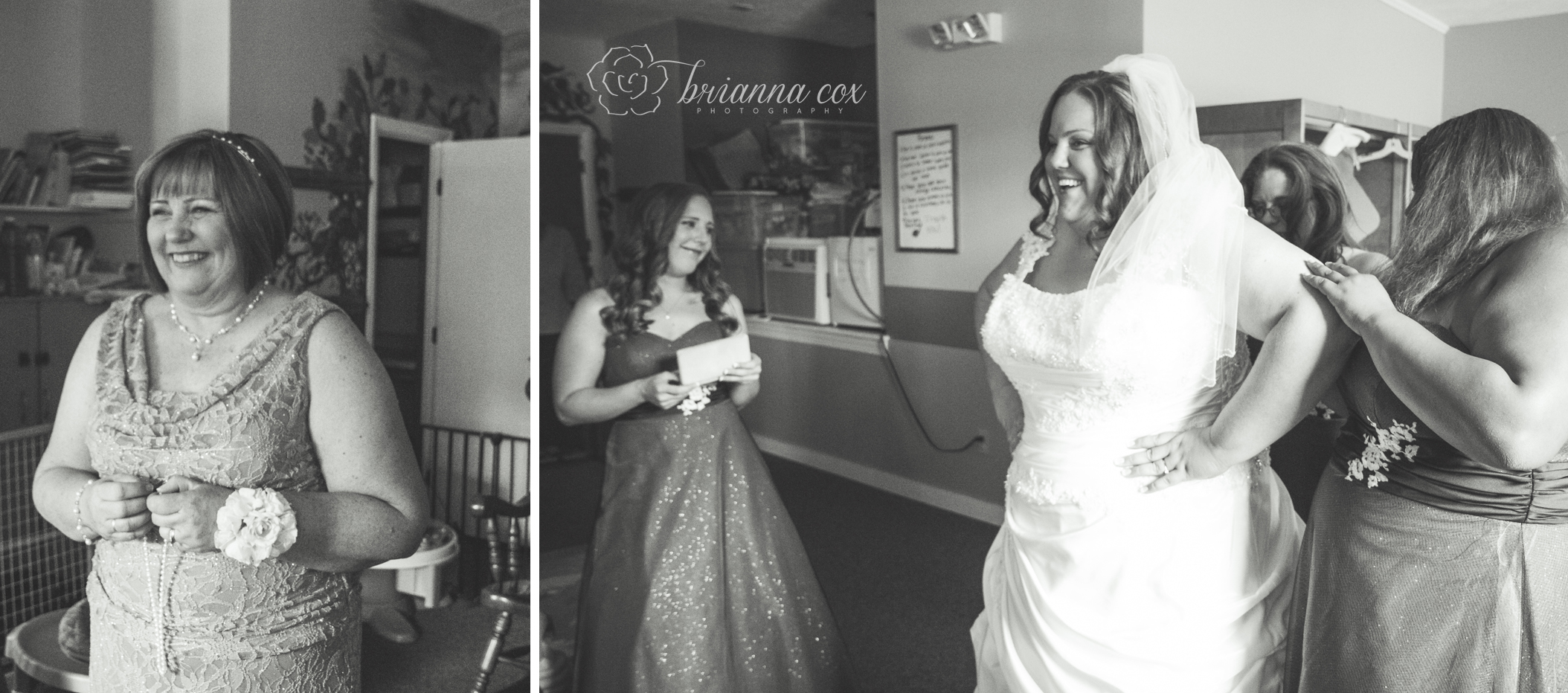 Cedric had his father pray for him before the ceremony, a very special moment on his big day.
Kim shared a touching moment with her daughter as she read a letter from her husband before walking down the aisle.
The couple had a beautiful ceremony at The Fellowship in Easton, MA.
The beaming newlyweds couldn't make it all the way down the aisle without stopping to take their first official "selfie" as Mr. and Mrs. Lewis! 😉
As you'll see in the Bride & Groom details below, Kim said that the above photos were her "funniest memory" of the day. Kim and Cedric rode in their 12 passenger van while their 8 children got to cruise from the ceremony to the reception in the limo! 😀
How stunning is Kim in her MB Bride dress? I love the lace details and her long train…
Pure wedded bliss! 😀
"Love, Laughter and Happily Ever After" was definitely a fitting title to the Lewis family reception at the Holiday Inn in Mansfield, MA.
Isn't their combined wedding and grooms' cake created by Art's Bakery so unique? I just loved it!
Kim and Cedric shared their first dance to "God Gave Me You," by David Barnes.
After their first dance as bride and groom, Kim called her parents up to the dance floor to share THEIR first dance. Her parents never got to have a first dance at their wedding, so Kim and her sisters wanted to thank them for their beautiful example of a loving marriage. It was an awesome moment during the reception. There wasn't a dry eye in the house!
During the mother/son dance, Kim invited her sons up to dance with her.
The dance floor was hoppin' all night!
Then things got a little messy during the cake cutting….
Kim's sister, Kylene surprised her with a special song & dance of their own at the end of the night:
I wish you both a happy, blessed life together with your beautiful families becoming one! Thank you for letting me capture your special day!
Vendor Info
Wedding Dress | MB Bride, Greensburg, PA
Bridesmaids Dresses | Alfred Angelo
Groomsmen and Groom attire | Tuxedos By Merian, Brockton
Florist | Judy's Florist, Foxboro, MA

Ceremony | The Fellowship, South Easton, MA
Reception Venue | Holiday Inn Mansfield-Foxboro
Catering | Holiday Inn
Cake | Art's Bakery Raynham, MA
DJ | DJ Sonny, Stoughton, MA
Invitations | Invitations by Dawn
Songs
introductions | Shut Up And Dance, by Walk the Moon
first dance | God Gave Me You, David Barnes
father/daughter | Butterfly Kisses, Bob Carlisle
mother/son | A Song For Mama, Boyz II Men
cake cutting | Sugar, Maroon 5
last dance | I Won't Give Up On Us, Jason Mraz
Bride/Groom Questions
What was the most memorable moment of your day?
Bride – Seeing my groom surrounded by our children waiting for me at the front of the church.
Groom – Watching my bride walk down the aisle.
What was your favorite detail?
Bride – My parents having their first dance at my wedding.
Any advice for future brides/grooms?
Make decisions based on what will make YOU most comfortable on your wedding day. Expect the unexpected, and enjoy every moment.
Funniest memory from your wedding day?
Bride – Riding away from the church in our 12-passenger van while our eight children rode in the limo.
Groom – The twins looking for their rings because they had to get married, too.
If you could do it all over, would you change anything?
Not at all.
Where did you go on your honeymoon?

Norwegian Cruise to Nova Scotia, New Brunswick, Maine, Orlando, Bahamas